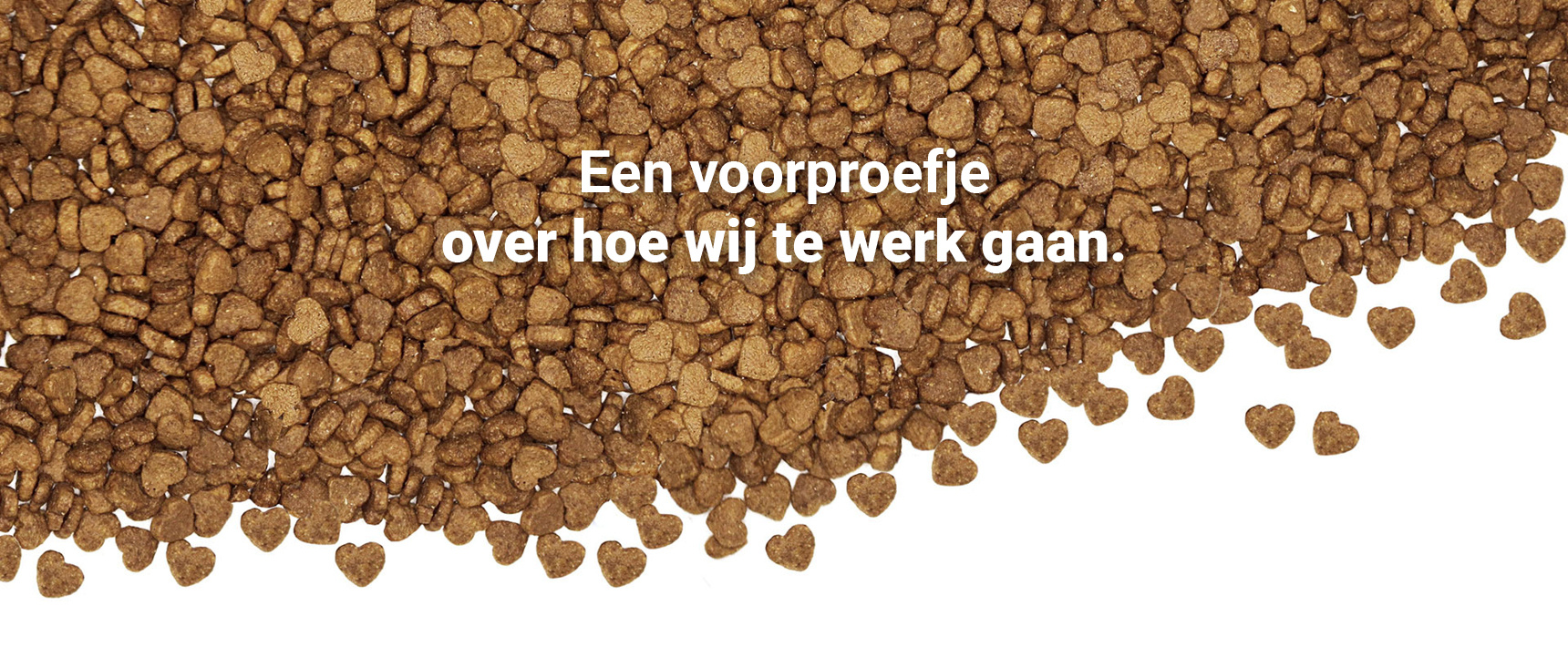 Het Managementteam van MONGE heeft een geïntegreerd beleid opgesteld met betrekking tot de managementsystemen voor kwaliteit, milieu en veiligheid op het werk. Alle medewerkers van Monge zijn bewust van dit beleid. Op het gebied van kwaliteit proberen we met name het aantal klachten te verminderen en optimale klanttevredenheid te bereiken. Voor het milieu, proberen we milieubelasting zoveel mogelijk te voorkomen, verminderen of elimineren. Op het gebied van veiligheid, worden strenge maatregelen genomen om de kans op ongevallen, letsel en werk gerelateerde ziekten aanzienlijk te verminderen.
De grootste diervoerproducent van Italië

37.000
m2 voor voedselproductie
28.000
m2 voor logistiek en opslag

250
mln blikken per jaar

150.000
ton aan jaarlijkse natvoer productie

170.000
ton aan jaarlijkse droogvoer productie

42.700
pallets beschikbaarheid
Innovatieve technologieën voor het welzijn van honden
Het Monge assortiment staat garant voor het welzijn en de gezondheid van honden. Monge heeft zich toegewijd aan het investeren van geld en energie in de zoektocht naar innovatieve, natuurlijke en uitstoot-vrije manieren voor productie. Het interne Research & Development team formuleert recepten met als doel gezonde, gebalanceerde en complete voedingen voor iedere soort hond. Al enige tijd wordt er baanbrekend onderzoek gedaan naar de behoeften van honden op basis van ras, grootte, levensstijl en leeftijd.
Een stevige toewijding voor een duurzame economie

EAFRD - European Agricultural Fund for Rural Development: Europe invests in rural areas.
Rural Development Program 2014-2020
Project description:
Technological innovation for 100g single-serve paté tray filling and sealing process.
The investment is intended to improve the quality and production of 100g single-serve trays of paté, This involves, in particular, developing products with a single protein source, such as monoprotein chicken, to support a growing market preference in the wet pet food sector for this type of food. New "industry 4.0"-compliant technologies will allow the project to improve how standard and extraordinary production requirements are managed. A new production area will allow the company to respond to market developments without compromising on quality, and increase integration between production, storage, logistics and distribution, in line with the technological and digital development taking place at the Monasterolo di Savigliano production site.
Overall cost: €2,000,000.00
EAFRD quota: € 344,960.00
www.regione.piemonte.it/svilupporurale
Project description:
Technological innovation for production and packaging processes for paté in 400g cans, single-serve trays and chunkies in single-serve "doypack" pouches.
The investment program is aimed exclusively at certain types of wet products and, in particular, paté packaged in single-serve trays, cans up to 400 g, or chunkies packaged in single-serve "doypack" pouches. The specific project objective is to innovate technologies and how production is organized for some of the company's leading products. Furthermore, the project aims to optimize the use of plants and production flows, and contain costs, all of which represent indispensable conditions for long-term planning strategies capable of having a positive effect on the sector, employment, and the development of the wide range of industries linked to the production of pet food (logistics, distribution, services, etc.)
Overall cost: €1,500,000.00
EAFRD quota: € 258,720.00
www.regione.piemonte.it/svilupporurale
Project description:
Investment in tangible fixed assets - Processing, marketing and sales of agricultural products
The project aims to deal with the current criticality in the paté sterilization process. A new group of 8 autoclaves will be positioned alongside the existing autoclaves and used to statically sterilize packaged pate for products up to 100gr, while existing autoclaves will be used to process the remaining formats above 100gr. This reorganization and setup of the sterilization activity will separate the work performed by the two groups of autoclaves in order to balance out the process and make it more efficient. The plan is the latest in an overall corporate production strategy aimed at providing full support for the company in its drive towards seizing market opportunities.
Total cost: € 1,010,000
EAFRD quota: € 174,204.80
www.regione.piemonte.it/svilupporurale
EX.PRO. (EXport PROduction) – Prog. no. F/170008/00/X42
New products and digital technology for the sustainable development of high quality "Made in Italy" pet food.
Project description:
Project co-financed by the European Union, European Regional Development Fund - National Operational Program on Enterprises and Competitiveness 2014-2020
AXIS I – Investment Priority 1b – Action 1.1.3
Innovation agreement signed on: 01/07/2020
Concession decree: n. 1933 of 07/07/2021
Project start date: 10/12/2018
SUMMARY AND PURPOSE OF THE "EX.PRO." PROJECT
Monge intends to employ the Ex.Pro. research and development project to develop new types of products, more complex than traditional ones (maintenance foods), which the pet food market is demonstrating increased interest in. The complexity and innovativeness of these products will, in particular, be determined by the specific reference targets. They will mainly address the weakest members of the canine and feline population, including intolerance, allergies, and acute or chronic eating disorders. The company also aims to develop an integrated computerized management model that brings together production and logistics to take full advantage of the recently-built automated warehouse, thereby contributing to making not only production planning more efficient, but also the complex production systems and technology present in the company.
The two projects designs, although independent in terms of their specific development path (as they concern different areas of company activity), contribute in equal measure to achieving the main central objective of the Ex.Pro. project, i.e. the greater penetration of foreign markets.
FINANCIAL SUPPORT
Cost admissible for subsidy: €4,956,698.44
Allowable contribution to expenditure: € 1,525,187.01